---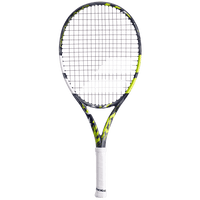 Do you want to dominate the game with ultimate spin? The 7th generation Babolat Pure Aero Junior 25 tennis racquet evolves with a unique approach engineered around the spin in your game. Join players like Rafael Nadal, Leylah Fernandez, Félix Auger-Aliassime, and Carlos Alcaraz and discover which Pure Aero racquet lets you own your spin. The Pure Aero Junior 25 is perfect for young competitive players looking to use spin and power to dominate rallies.
SPIN
A lighter-weight and aerodynamic frame for faster racquet head speed, spin-specific grommets, and an open 16X17 string pattern create maximum spin.
POWER
The fast-swinging, naturally powerful Pure Aero Junior lets you generate more power, hit the ball deeper, and play longer.
FEEL
We added vibration-dampening materials to the racquet to optimize shock absorption without compromising spin or power.