---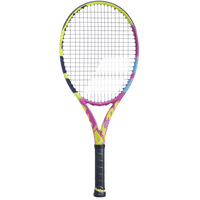 DESCRIPTION
Does your junior fight for every point? Do they scream Vamos! after epic points? Do their opponents complain about heavy spin and dominating power? The Babolat Pure Aero Rafa Junior 26 tennis racquet brings Rafa's spirit, spin, and power to your future champion's game. Designed with the legend himself, the Babolat Pure Aero Rafa Junior 26 tennis racquet is a must have for the next generation of tennis players.
BENEFITS
SPIN
Nail every shot and keep your opponent running between the four corners of the court. The Pure Aero Rafa offers unparalleled results. Thanks to its impressive stability, this tennis racquet allows you to fully engage with the ball. Featuring the Woofer System, a head-heavy balance, and a more open string pattern than the Pure Aero, this tennis racquet will give you more weight behind the ball to push your opponent back and dominate every rally.

POWER
Send your rival back behind the baseline and boost your power with the new Pure Aero Rafa tennis racquet. Specially designed with a stiffer frame and a more head-heavy balance, this racquet will help you set the pace on the court with powerful shots.

FEEL
A blast of sound, radiating raw power, for greater sensations on impact.