---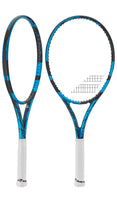 With the
Pure Drive Team
, Babolat puts the legendary spin, power and precision of the standard Pure Drive into a lighter, more user-friendly package. The upshot is a speedy sub 11 ounce racquet that gives rising intermediate players an explosive weapon. Updated with Babolat
'
s new
HTR System
, the graphite layup has been re-engineered for higher torsional rigidity, resulting in more efficient energy transfer to the ball. To help soak up the harsher vibrations of this racquet's stiff construction, Babolat has devoted more real estate in the Pure Drive's shaft to
SWX Pure Feel
, a thin and extremely flexible viscoelastic rubber that sits between the carbon layers. Additional features include
FSI Power Technology,
which optimizes the grommet system and string spacing for higher energy return and vicious RPMs (think heavy ball).
On groundstrokes, the Pure Drive Team feels crisp, lively and accurate.
It accelerates easier than the standard Pure Drive while delivering the kind of spin-friendly precision that builds confidence on full swings. You'll also find enough power to close out points, and the speedy feel makes it easy to scramble on defense or hit winners on the run. The speed continues at net where this racquet will help you stay active and pounce when opportunity knocks. The Pure Drive Team also excels on serve where it whips easily through impact to deliver an effective combination of power and spin.
All in all, the Pure Drive Team is simply a great option for the rising intermediate player who wants an easier path to aggressive tennis.
ALL RACKETS COME UNSTRUNG