---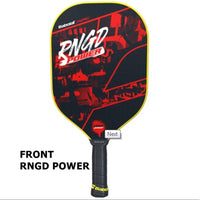 Be a Babalot Renegade!
The Babolat RNGD Pickleball Paddle will ensure you're prepared to respond to any situation on the court with speed and accuracy. This paddle has a balanced feel with a wide sweet spot and uses reliable materials including a fiberglass surface. It's perfect for players who enjoy consistent play and the versatility to react with precision placement as well as quick volleys.

The Babolat RNGD Pickleball Paddle comes in two models, the lighter 7.4 – 7.8 oz Touch and the heavier 7.9 – 8.3 oz Power. This allows players to select their preferred weight for either faster movement or stronger hits. The small circumference grip allows the paddle to be easily used by players of all sizes and has moisture absorbent properties. The polypropylene core minimizes vibrations and offers reliable pop.

The Babolat RNGD Pickleball Paddle has a high quality build that will allow you to make the most of your strengths during play.