---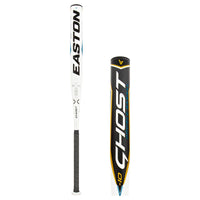 Sale
Easton is staying true to the 2-piece, all-composite design that has carried the Ghost Double Barrel bat through a number of seasons. However, they have updated the composite material that is used for the bat and they have also updated the connection piece.
For the barrel, Easton is using the new Sonic Comp material. This composite allows for an extremely low barrel compression that should send softballs flying all over the diamond. As well, don't worry about it going over the performance threshold. Easton has built it so that it should remain within the guidelines set forth by all fastpitch governing bodies. 
The ConneXion technology that fuses together the bat's barrel and handle has been revised to be stiffer. A stiffer connection will typically lead to more power potential for batters. And at the same time, that updated ConneXion tech should prevent nearly all vibration from getting to a player's hands on a miss-hit.
2 1/4 Inch Barrel Diameter

Drop 10 Length-To-Weight Ratio

Balanced Swing Feel

Two-Piece, All-Composite Fastpitch Bat

Displays USSSA (New NTS Tested Stamp), USA Softball (ASA), NSA, ISA & WBSC Certifications

Colorway: White | Dark Grey | Teal | Gold

NEW Sonic Comp Material - This Composite Allows The Barrel To Have The Lowest Compression, But It Still Performs High & Is Durable. Plus, The Sound Is Extremely Distinct & Will Be Heard Across A Softball Complex.

Double Barrel Construction - Barrel Is Composed Of An Inner & Outer Barrel. Both The Inner & Outer Barrel Work Together To Provide The Best Pop, Feel & Sound With A Massive Sweet Spot

ConneXion Connector Piece - Easton's ConneXion Technology Has Been Updated To Allow For A Stiffer Feel At The Point Where The Barrel & Handle Are Fused Together. This Should Increase Power While Still Eliminating Vibration From Getting To A Batter's Hands.

Handle Is Ultra-Thin At 29/32 Inch. And It Is Wrapped With A 1.8 mm Cushioned Grip.

Full Twelve (12) Month Manufacturer's Warranty