---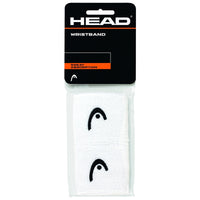 HEAD Wristbands
The HEAD Wristbands will prevent sweat from making its way to your hands so that you can play your hardest without losing grip of your paddle. These two bands are made with nylon and elasthan so you'll benefit from a soft feel with enough elasticity to allow for a comfortable fit. The wristbands have a simple design that pairs well with any sort of attire and features images of the HEAD logo on the surface.

The HEAD Wristbands come in one size that should fit any player and are 2-1/2" wide. They easily absorb sweat without getting weighed down and affecting your game. They can be washed like any other piece of apparel for easy clean up.

The HEAD Wristbands will help you maintain that fresh feeling you enjoy at the start of a match even when the heat is on.