---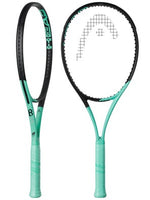 Lighter and More forgiving than the Boom MP, the Boom Team offers an easy learning curve to rising intermediate players
Ideal for the rising Intermediate player, Head's
Boom Team 
racquet delivers a seductive combination of power, spin and accuracy. Compared the Boom MP, this stick feature a slightly larger head (102
in²)
, making it more forgiving and comfortable without compromising control. At only 10.2 ounces strung, the Boom Team not only feels fast and explosive on groundies but it will also help you stay active at net.
Technologies include a 
Morph Beam
, which combines a thinner box beam in the shaft (for control and feel) with a thicker, more angular cross-section in there head (for stability and power).  The Boom Team also packs a wider more responsive contact zone in the upper hoop, resulting in a more expansive sweetspot and larger spin-window. In addition to 
Graphene 360+
(which helps with power and stability), this racquet includes a uniquely flexible 
Auxetic 
construction in the yoke, a feature that optimizes ball feedback according to impact location.
Ultimately, this is a great option for the intermediate player who wants a speedy racquet with controllable power. 

 
For optimal results, we recommend stringing with a multifilament like Head Velocity.
**RACKET DOES NOT INCLUDE STRINGS**