---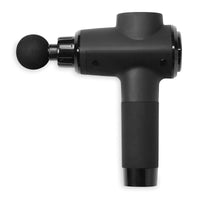 For your next deep-tissue massage, get a little help—actually, a lot of help—from a new friend, our Recover XT Percussion Massager. This handy rechargeable device is the superhero of the self-massage world, doing more of the massage work for you so you can warm up and recover even faster and with less effort. The percussive power provides vigorous soft-tissue manipulation, improving range of motion, increasing blood flow, and alleviating soreness. Multiple massage modes help you tailor the power to the specific muscle and level of tightness. Six different attachments let you pick the best method of targeting and releasing each individual spot. And because it's lightweight and lasts up to three hours on a single charge, you can cover your whole body in a single bound.
Six unique attachment heads target tension throughout the body
Five progressive speed settings release multiple levels of tightness
Versatile, compact design is ergonomic and lightweight
Comes with carrying case for portability
Lasts up to three hours on one charge
Includes AC adaptor and massage guide
ABS, RUBBER, MOTOR
Dimensions: 6.77" X 2.76" X 9.45", 9" X 11"