---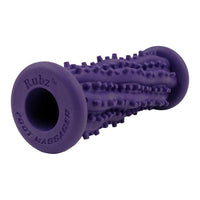 A Simple & Effective Tool for Foot Pain
The Rubz Foot Massage Roller is a simple and effective foot health tool for reducing foot pain, stimulating foot circulation, and releasing soft tissue adhesions in the sole of the foot. The roller's unique contours and flat-tipped knobs provide excellent relief for sore and achy feet, and its cylindrical design keeps it from rolling away during massage sessions.
Allows You to Work Almost Every Part of Your Foot
With the Rubz Foot Massage Roller, you control the intensity of the massage, and you can work almost every part of your foot, including your heels, arches, and toes. This durable, travel-friendly, and easy-to-use foot roller can help with foot rehabilitation after surgery to promote healing, and it can be used almost anywhere, including in the home, at the office, or on a plane to help relieve stress and soothe tired, tender feet.
Can Be Used for a Variety of Purposes
The Rubz Foot Massage Roller can be used with bare feet or with socks (for those with more sensitive feet). Athletes, individuals who stand for long periods, and people who experience plantar fascia pain (i.e., plantar fasciosis) may find this roller particularly helpful.