---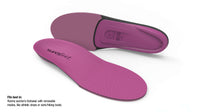 With a slimmer heel and an arch length to fit the proportions of the female foot, the Superfeet BERRY were designed for women who live on their feet.
Long-lasting support packed into a thinner, high-performance insole to help improve the fit of a wide range of footwear.
DURABLE CONSTRUCTION
Superfeet insoles keep their shape, delivering reliable support and comfort for up to 12 months or 500 miles, whichever comes first
SUPERFEET SHAPE
The flexible, accommodating shape provides biomechanical support to all foot types and can help reduce stress on feet, ankles and knees
MEMORY FOAM
Pressure-sensitive foam shapes to your foot for personalized comfort
HEEL CUP
Features the most accommodating heel cup and can help stabilize and support the foot
POLYURETHANE FOAM MIDDLE LAYER
Provides comfort & stability.
DURABLE BOTTOM LAYER
Maintains shape & support.
ORGANIC, ODOR-CONTROL COATING
All natural coating that eliminates odor-causing bacteria
STABILIZER CAP
Acts as the base of the insole that supports the rearfoot and provides structure and stability to the foam layer