---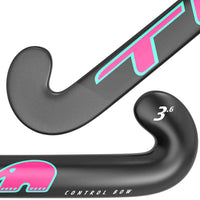 The TK3.6 Control Bow is the entry point to the senior ranges. Ideal for the junior player seeking their first full size senior stick or for seniors looking for a stick on a budget.

The eye-catching designs in the TK 3 Series helps these sticks stand out, but we don't just stop there! The Reactive Liquid Polymer offers much greater feel and performance characteristics, meaning the 3.6 is arguably the most advanced entry level sticks in the market.

The TK3.6 Control Bow offers the perfect stick for the all-rounder who is looking to develop their skills.

Featuring a sweeping profile, it is designed to offer all round assistance to a 360-degree skill set.

• Level: competitive
• Shape: low bow
• Composition: 5% kevlar, 95% fiberglass
• Targeted weight: 550 grams

THE LOW BOW This low bow is typically about 25mm and the highest point is close to the toe of the stick. This shape offers extra assistance with lifting the ball, aerials and drag flicking, as well as dynamic ball movement.

Reactive Liquid Polymer - A special polymeric additive that improves the strength, durability and performance of the stick.